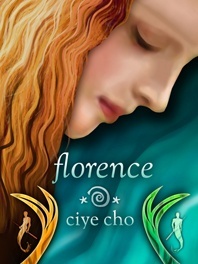 Florence
Florence Waverley #1
Author: Ciye Cho
Published: July 1st 2012
Format: eBook
Number of Pages: 336
Sou
rce: Received from author
Purchase: Amazon,
Seventeen-year-old Florence Waverley is out of her depth. Literally. Kidnapped and taken below the waves to the mer world of Niemela, she is the ultimate gift for merman Prince Kiren: a human familiar tied to his side. But nothing is what it seems amid the beauty and danger of a dark ocean.
Every Niemelan has a role to play, from the mermaids who weave towers out of kelp to the warriors who fight sea monsters. But in trying to survive, Florence will end up in the middle of a war between the mer and the Darkness. A conflict that will push her between two brothers: Kiren, the charmer inexplicably drawn to both her and the monsters; and Rolan, the loner who has been pushing her away since the day they met. But in order to take a stand--and find out where she belongs--Florence will have to risk it all: her life, her heart... and her very soul.
As for Witch Song, this has been my first mermaid book and for this reason, I can admit that I had absolutely no expectations, and I would also add that I though this book was not going to amaze me, the way it actually did. I've never liked mermaids, they kind of scare me, though I find them really fascinating, and Ciye Cho, may just have confirmed my theories about the complexity of their personalities.
At first, I found the book to be quite slow, I couldn't see a turning point approaching; I thought it was quite predictable, the average story about an appearently simple girl, who actually becomes important in some kind of way.
The story, however, turns out to be everything but predictable.
First of all, I think that Ciye has an amazing ability in describing imaginary worlds: Niemela looks amazing in my head and all because of his talent. I loved how he played with colours and shapes and animals to create an incredible underwater fortress. I really enjoyed his accuracy in describing the mermaids and mermens' structure, their colors, and how they played with the ocean's lights. I thought it was amazing that every mermen was characterised by its own color, so that you could easily recognize them by the splash of color approaching. More than interesting, was how Niemela was organised, how animals agreed to cooperate with mermens but especially, I found so captivating the concept of the Darkness, that is to say, the open ocean outside Niemela. I thought it was great that the author actually left a veil of mystery around this dimension, because I'm certain there will be more of it in the sequels, and this certainly involves the reader in keep reading the series.
I loved the characters, they were all unique, with special personalities and opinions. When I first read about the two prince brothers, Kiren and Rolan, I really feared that the story would have turned out into the typical love triangle (Please Ciye, don't keep this surprise for the sequels !). I really enjoyed discovering the differences between the princes progressively, and see Florence's mind cleare about her feelings to the both of them along with her. I was really surprised by how the events developed (and I am usually the one who succeeds in anticipating things) and by how the plot twists completely upset the reader's feelings toward Kiren and Rolan. It was great to see things mainly through Florence's dreams because it kind of give you the time to adjust to the news before they completely struck the world of Niemela.
Speaking of the protagonist I need to say that I don't feel particulary attached to her, and this is probably why I am not giving this book 5 hearts. There was nothing wrong about her, except that I didn't like the abysmal difference between who she was in the real world and who she managed to be in Niemela. I hope that my bond with her will grow with the reading of book 2 and 3, though.
Overall, an amazing read about an incredibly vivid, underwater world where a human girl has been forcely brought into. Will she melt in?
Rated 4.0
The Giveaway
The author has been kind enough to agree to
a giveaway, and he has chosen an amazing prize! Some
of you will have a chance to read the whole Florence Waverley
series, because, you know, you will certainly need book 2 right
after book 1 !! So, say thank you to Ciye and .. GOOD LUCK peeps !
**Please note that I made a mistake ! Ciye is currently writing book #4 in the series, so the Florence Waverley series is not a trilogy, he will be giving away the first three books xP
a Rafflecopter giveaway