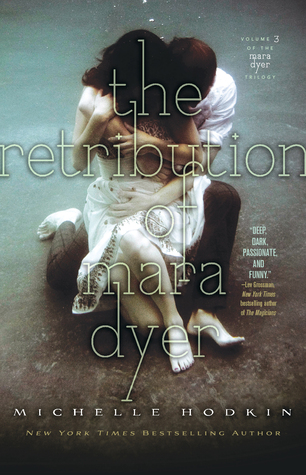 The Retribution of Mara Dyer
Mara Dyer #3
by Michelle Hodkin
Author: Michelle Hodkin
Published: 4th November 2014
Publisher:
Simon & Schuster Books for Young Readers
Number of Pages: 470
Format: Hardback
Source: Bought
Purchase: Amazon, TBD
Mara Dyer wants to believe there's more to the lies she's been told.
There is.
She doesn't stop to think about where her quest for the truth might lead.
She should.
She never had to imagine how far she would go for vengeance.
She will now.
Loyalties are betrayed, guilt and innocence tangle, and fate and chance collide in this shocking conclusion to Mara Dyer's story.
Retribution has arrived.
My Review
I am so messed up I don't know where to start. This is one of those books I hate because I don't really feel like writing a review about it, because it's SO good I don't even think I have the right to discuss about it, but at the same time I DO have to spend a few words about it and ... GOD, this is as insane as this whole trilogy had been.
Mara, Mara, Mara, where do I start? First, if you haven't checked out my reviews of book #1 and #2, do it now, so you'll have an idea about how much did I love the first two books. But now, let's just talk about this beautiful ending.
Once again, Michelle Hodkin amazed all her readers with a breath-taking finale to one of the most beautiful trilogy I've ever read. I was surpised by how the ending mismatched with what I thought the book would be, but, seriously, I couldn't hope for a better storyline. As always, the author plays with the reader's mind: this is one of those wonderful books where the reader doesn't exactly know where the story is going, how the characters are evolving and above all, who the characters are. The impossibility to trust Mara, is one of the things I've always loved about the series, because it makes the mystery so much thicker than it already was.
I was happy that I finally had the chance to discover more about Mara's life and the truth about everything that was happening to her; I don't think this is something we should underestimate, because it is not rare to find series that even in their final books do not satisfy the reader's curiosity, and I think this is a MUST. Michelle Hodkin , instead, with great ability and an appealing style analysed deeply the background of the project in which Mara was involved, mixing past and present in an incredible plot, that in the very ending, cleares all the ambiguity one may have had about Mara's life and her grandma's.
The characters are just perfect, I love everything about them. Mara is strong and brave and intelligent and Noah is sweet and caring and provocative. Perfect mix, perfect couple. I loved that Michelle put under the spotlight also other characters that we just started to know in book #2. I love Jamie, loved him from the first book and I was so happy to know about the role he would have in book #3. Speaking the truth, all characters changed a LOT, but conversely to what other people thought I didn't feel upset about their growth, I just thought it was inevitable considering everything they have been through. The only thing I would reproach to Michelle : I needed more Noah Shaw. That was absolutely not enough, but I forgive you anyway.
The dynamism of the book, the never-ending struggle across all the country to find out more about Mara's disease was brilliant and insane. It was so interesting to follow their movements and to keep count of their progress that you really can't put the book down until the end.
I really liked the veil of humour that was added to this book; I think that this detail was present in book#1 but completely disappeared in book #2 where things kind of got too messed up to make funny of it. In book #3 the special bond between Mara and Jamie makes it possible to lighten the atmosphere once it a while.
In the end, considering that I think this is one of those book you can't really review without spoilers I just want to add : READ IT ! NOW, ASAP! To all those who haven't started the Mara Dyer trilogy, DO IT NOW! You won't regret it. You will be searching for more like it, like I'm doing.
Rated 5.0